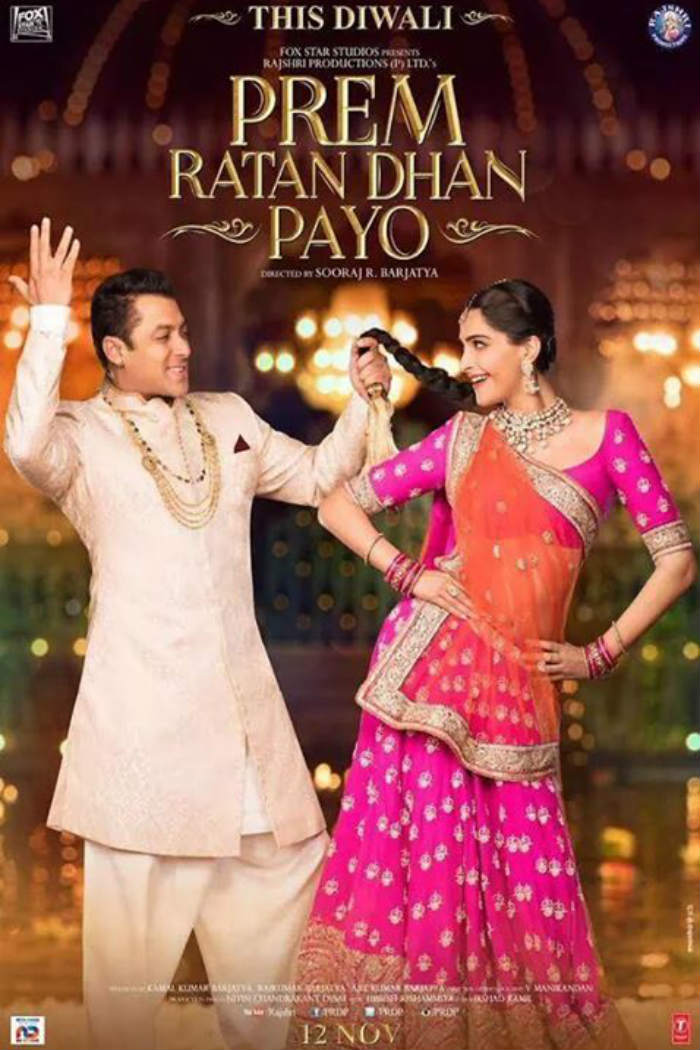 The movie's poster. Image Courtesy: Internet
That joint family, those elaborate song and dance sequences, that one villain, that family bonding, that unflinching love, those virgin lovers, those zillion rishtedaars, that Prem, that Rajshri.
Main wapas aa gaya, main wapas aa gaya...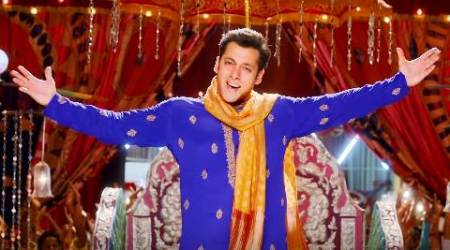 Main wapas aa gaya, main wapas aa gaya...
Yes, Rajshri's favourite actor in their perpetual character, Prem, was back on the silver screen after 26 long years to convey, yet again, what every Rajshri movie's message has been over the years: the saga of unbroken family bonding.
So, we have identical looking Prem Dilwale and Prince Vijaya, so you know where this story is headed. And mind you, the only thing that differentiates the two is the saving grace, moustache, apart from their backgrounds ( Prem Dilwale is an artist in a local nautanki group as opposed to Vijay who is a prince and super rich).
The trailers were already revealing so much. Prince Vijay is deliberately killed in an accident and replaces him the look alike accidently spotted in a market place. Prem Dilwale is brought into prince Vijay's shoes and he refuses to charge even a penny for this. The reason? His unconditional affection for the pretty princess, Mythili.
A still from the movie. Image Courtesy: Internet

He makes endless efforts to put things right, of course, in his own style: sets their strained relationship with his step-sisters straight, changes his equation with his fiancé for the better and bringing some fun into people's lives on the way.
Barjatyas never had any grey character in their stories, which stands true for this film too. The evil step brothers take up to that role for the most obvious reason on this planet. Neil Nitin Mukesh needs to keep himself reserved for better roles; after all, we have seen what he can hold in his debut movie itself.
But Bhai, your Ram-bhakt act is getting a bit too repetitive now (read Bhajrangi Bhaijaan). Mind some change? As for Sanjay Mishra and Deepak Dobriyal (who were called in for some comic relief, it seems), this movie is the best example of how to waste extremely talented and powerful performers in negligible roles. And Sonam Kapoor? Let's just not talk about her.
A still from the movie. Photo Courtesy: Internet
Prem Ratan Dhan Payo is as predictable as your milkman's milk. You know there is glaring amount of water in that. But you still drink it, don't you? Same was the audience's response to the movie that went to the theatres to watch it.
'Hum Aapke Hain Koun' swept the nation and achieved the cult status in 1994 because of the times in which it was made. It was a breath of fresh air for the audience who had grown sick of the routine, violent fight sequences. This time it was Bhai's star power and fan following. I don't know how Barjatya's movies are going to survive the times.
And that dance step. It's everywhere.